Published 6 January 2010
"The science of sport" is the main theme behind the Discover Science & Engineering stand at the 2010 BT Young Scientist and Technology Exhibition.
Scientists, technologists and inventors play a key role in sports such as soccer, from the invention of boots and footballs to better diets and fitness regimes, treating injuries and improving the skills of the players.
Here are five examples of how a lot of science goes into soccer…
1. Bending it like Beckham
Among the highlights at the 2010 Young Scientist show is "Bend it Like Beckham". ScienceShowsForSchools.com has an educational and entertaining show which reveals how David Beckham is a scientific genius.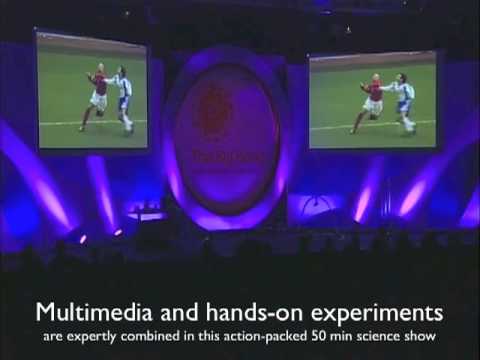 2. The birth of the Predator
As a midfielder for Liverpool FC in the 1980s, Craig Johnston analysed how the design of the team's boots could be improved to enhance the players' control of the ball. A
After retiring from football, he developed the Predator, now the world's best selling boot worn by David Beckham and Jonny Wilkinson. Watch the 2007 Science Week Lecture in which Craig explains his life as an inventor.
3. Penalty robots
Researchers in Zurich are carrying out a series of tests to analyse the behaviour of goalkeepers in a penalty situation. They have developed a virtual goal as well as a penalty-taking robot:

4. Nanotech treats cartilage injuries
Cartilage injuries can be a big problem in soccer and other sports, as well as skiing and everyday life. Cartilage is a type of dense connective tissue that has limited ability to heal itself.
But researchers at Brown University, Rhode Island, in the US may have found a way of coaxing cells of human cartilage to regenerate – by using carbon nanotubes to mimic the roughness of real tissues.
They are developing materials with rough textures at a tiny scale. The diameter of a nanotube is in the order of a few nanometres (about 1/50,000th of the width of a human hair), and can be up to several millimetres in length.
Read about the science behind the nanotubes